Boiler water treatment for more safety and efficiency
Steam boiler, hot water systems and district heating networks
Faults in steam generation plants are usually caused by problems in the boiler water. If the systems are in operation around the clock, the economic damage is often considerable. Proper boiler water treatment is therefore particularly important to achieve economical, trouble-free and safe boiler operation with excellent steam quality.
The formation of scale, corrosion and local overheating can endanger process reliability and lead to considerable economic damage. We condition the required boiler water - always in compliance with the relevant guidelines for steam and for hot water systems.
Dr. Hartmann Chemietechnik's targeted conditioning ensures efficient and safe operation of the systems.
Our experienced consulting engineers take a look at your system, analyze the water and then draw up an individual program for economical and ecologically sound boiler water treatment.
Reduction of energy costs
Improved ecological balance
Reduction of maintenance costs
Improvement of economic efficiency
High availability
Consistently high steam quality High efficiency
Improvement of economic efficiency
Improvement of heat transfer

Optimization of water throughput

Maximization of maintenance intervals

Increase of operational safety

Avoidance of material damage

Reduction of downtimes and production losses

Value retention

Process reliability

Compliance with legal requirements
Information on VDI 2035 (Association of German Engineers)
Prevention of damage in hot water heating systems - scale formation and water-side corrosion
The guideline has been revised and deals with damage caused by scale formation and water-side corrosion.
It provides recommendations on how to avoid them in hot water heating systems according to DIN EN 12828 within a building where the intended flow temperature does not exceed 100 °C.
It also applies to hot water heating systems that are operated temporarily or permanently in direct hydraulic connection with corrosion-proof closed cold or cooling water circuits.
"Stone formation" and "water-side corrosion" are now dealt with in a joint guideline.
Technical knowledge from the area of "existing plants" is taken into account.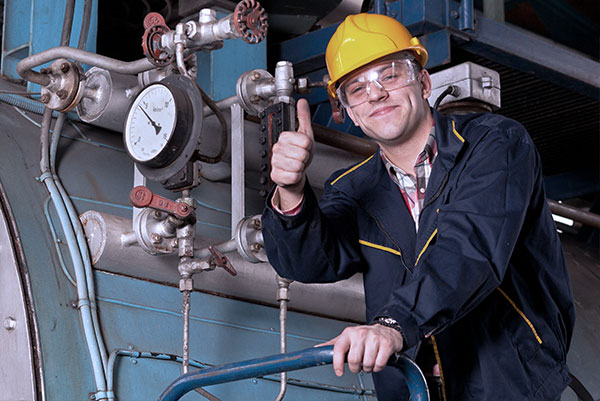 Our consulting engineers will be happy to assist you on site with any questions you may have on the subject of boiler water.